EPSA 2017 Theme
"

An Innovative Public Sector in 2017 - New Solutions to Complex Challenges

"
Under the overarching theme "An Innovative Public Sector in 2017 - New Solutions to Complex Challenges", EPSA 2017 seeks to showcase and reward those cases submitted by public administrations which have demonstrated an innovative approach to public service delivery and policy-making to the increasingly complex, difficult to address and often multi-dimensional challenges faced by the public sector in Europe. These challenges come at a time of an increasingly rapid pace of change, requiring public sector bodies to address both immediate needs and issues with important future consequences, to effectively prioritise actions. Solutions are sought where public entities contribute to the enhancement of trust in their ability. In the current context, public sector intervention is particularly needed both to address the impact of continuing economic uncertainty and to meet the needs of different stakeholders in a way that is demonstrably equitable and inclusive. Put simply, in many cases new solutions are called for by this theme where previously tried solutions to address challenges may no longer be optimal.
The EPSA 2017 thus aims to reward public innovative solutions in administrations that show how the public sector is responding effectively to major challenges and is performing efficiently.

Read the Call text for more information and watch the EPSA 2017 promotion video.
The EPSA 2017 Award Categories
All levels of public administration will be rewarded since the theme aims to be inclusive. Therefore, EPSA 2017 will present awards in three different categories based on the level of administration:
Category 1: Projects/cases submitted by organisations from the European or national level.
The European level refers to European institutions or agencies and the national level refers to the level of sovereign states.
Category 2: Projects/cases submitted by organisations from the regional level.
The regional level refers to the first level of administrative and political sub-division of a state.
Category 3: Projects/cases submitted by organisations from the supra-local or local level.
The supra-local and local level refers to the administrative and political levels below the regional level.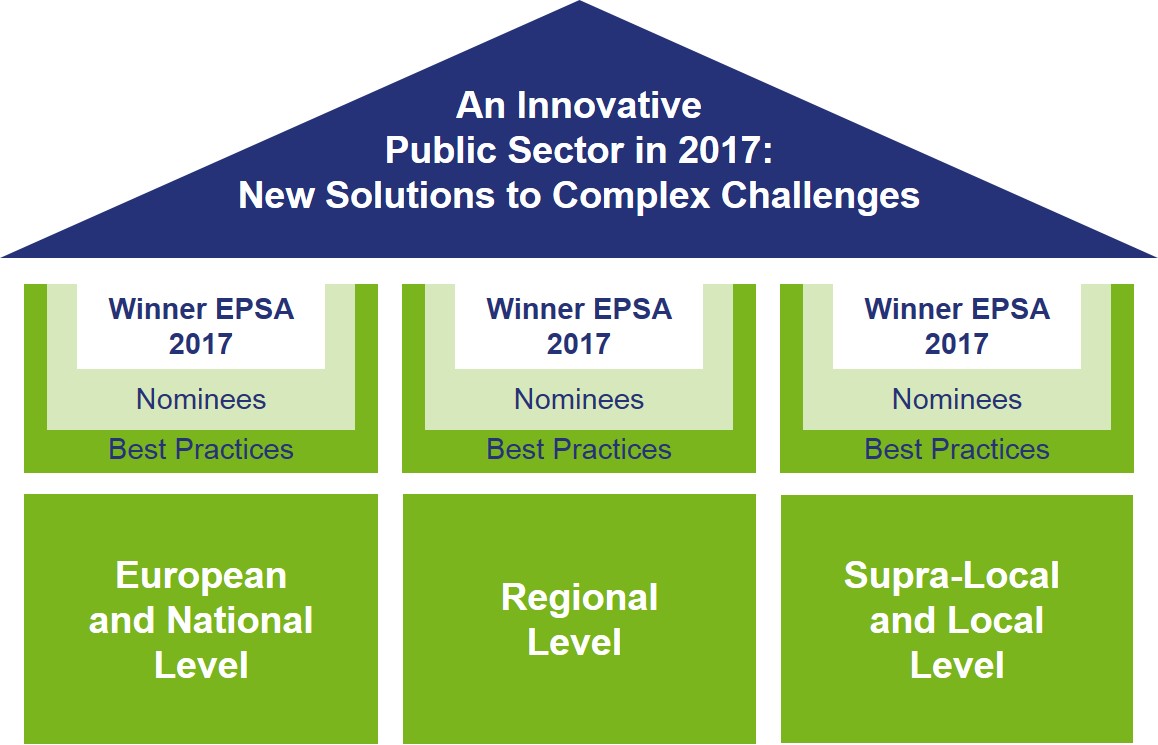 In case of projects that include partners from different levels of government, the administrative category will be defined by the status of the lead applicant as designated by the partners.
This will enable the recognition of good practice at all levels of government, which may include co-operative actions between different levels within the public sector.
There will be three levels of recognition in each administrative category - category award winner, nominees for category award winner and best practice certificate winners.
EPSA 2017 LEAFLET